Green Party pledges equal treatment for physical and mental health in boost to women's health
10 May 2017
*Greens announce three mental health policies in Worcester
*Co-leader Jonathan Bartley: "We must support those who are suffering - very often alone and in silence - with the weight of a mental health illness"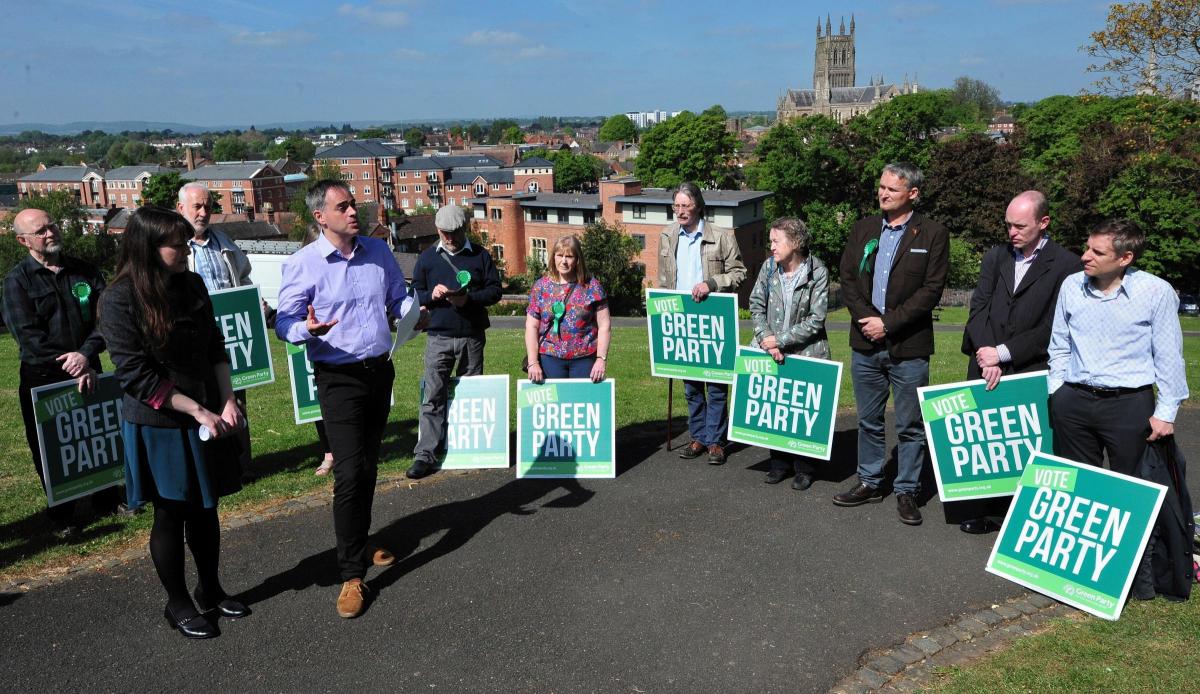 Via Green Councillor Louis Stephen @LouisStephen
The Green Party has announced three mental health pledges in Worcester today, promising to tackle Britain's growing mental health crisis by to giving mental health parity of esteem with physical health and ensuring everyone gets the treatment they need.
The Greens will also introduce awareness and empathy education to help prevent bullying and school-based therapy to treat mental health earlier.
Women are almost twice as likely to be diagnosed with anxiety disorders, and are also more likely to be diagnosed with other common mental health problems. Those who are trans, identify as non-binary and/ or express themselves in ways that challenge stereotypical ideas about gender also face high levels of mental health problems. It is estimated that 40% of non-binary people in the UK have attempted suicide. This issue is further compounded by our ethnicity: people from black and minority ethnic groups are more likely to have mental health problems, and then go on to experience worse treatment that those who are white.
The announcement comes during Mental Health Awareness Week, which runs from May 8 to 14.
The Green Party will pledge to:
Give mental health parity of esteem with physical health

Make sure everyone who needs psychological therapy receives it within 28 days of being referred

Roll out of new school-based therapy to treat mental ill health earlier and awareness and empathy education to limit the likelihood of bullying
New figures released last month show mental health budgets are being cut by £4.5m in five English regions this year, despite the Conservative Party promising to up spending. Three in four people who need mental health support are not getting it and between 2013 and 2016 the amount of the health budget spent on mental health fell from 1.4% to 0.7%.
Jonathan Bartley, Green Party co-leader, said:
"We must put the wellbeing of people ahead of the Conservative Party's destruction of our public services. The Green Party will make sure mental health is treated with equal seriousness to that of physical health so that we can finally support those who are suffering - very often alone and in silence - with the weight of a mental health illness.
"The Greens are committed to creating a caring Britain that looks after people with mental health problems and our plan for schools will build a society where people look out for each other. We won't just treat illness but reverse the Tory Government's failed policies to tackle the factors that contribute to poor mental health, like housing shortages, rising poverty and cuts to public services."
Our latest campaign news
On International Women's Day 2018
1. Close Yarl's Wood Immigration Removal Centre As women continue their hunger strike, Deputy Leader Amelia Womack was at the Home Office with protesters in solidarity.
2. Allow MPs to job-share Former Women's Equality Spokesperson Sarah Cope and GPW Secretary Clare Lorraine Phipps were on Radio 4's Westminster Hour talking about the campaign to increase diversity in our Parliament by allowing MPs to job-share.

3.Make misogyny a thing of the past Green Party Women are asking anyone who has worked in the third sector (now or in the past) to consider completing the Charityworks 'Sexism In The Third Sector' Survey on sexism and harassment. The research will help them understand the strengths and weaknesses of the sector, while ensuring it is open and safe for all people. Hear Green Party Women Membership Secretary RoseMary Warrington with others at the Home Office hand in of our petition to Make Misogyny a hate crime below.
4. Safeguarding reproductive rights Green Party Women are an official supporter of BPAS' 'Back Off' campaign. If you have been affected, in any way, by anti-abortion activity outside a clinic and would like to contribute to a survey of experiences you can do so here. 
5.Celebrating 100 years since the UK's first women voted While Caroline Lucas MP popped into a very special broom cupboard, Amelia and Co-Leader Jonathan Bartley MP, as well as Molly Scott Cato MEP and former Leader Natalie Bennett went #HungryforDemocracy. We also remembered those women who didn't gain equal voting rights until a decade later, as well as the women of colour, disabled and queer women whose achievements in gaining women's suffrage have been underappreciated.