Ongoing campaigns: Government announce Equal Civil Partnerships will go ahead
6 October 2018
The Government has announced it will be introducing legislation to allow equal civil partnerships regardless of gender and sexuality.
The news comes following a verdict by the Supreme Court that the current law is discriminatory. The Government was told it must now act to remedy the current inequality which means the avenues of legal recognition for couples are determined by their sexuality and gender, but initially insisted it would wait until a further consultation exercise had closed before making any changes. Coming during the Conservative Party conference, the U-turn announced by the Prime Minister marked a victory for those like the Greens who have long campaigned for a change in the law.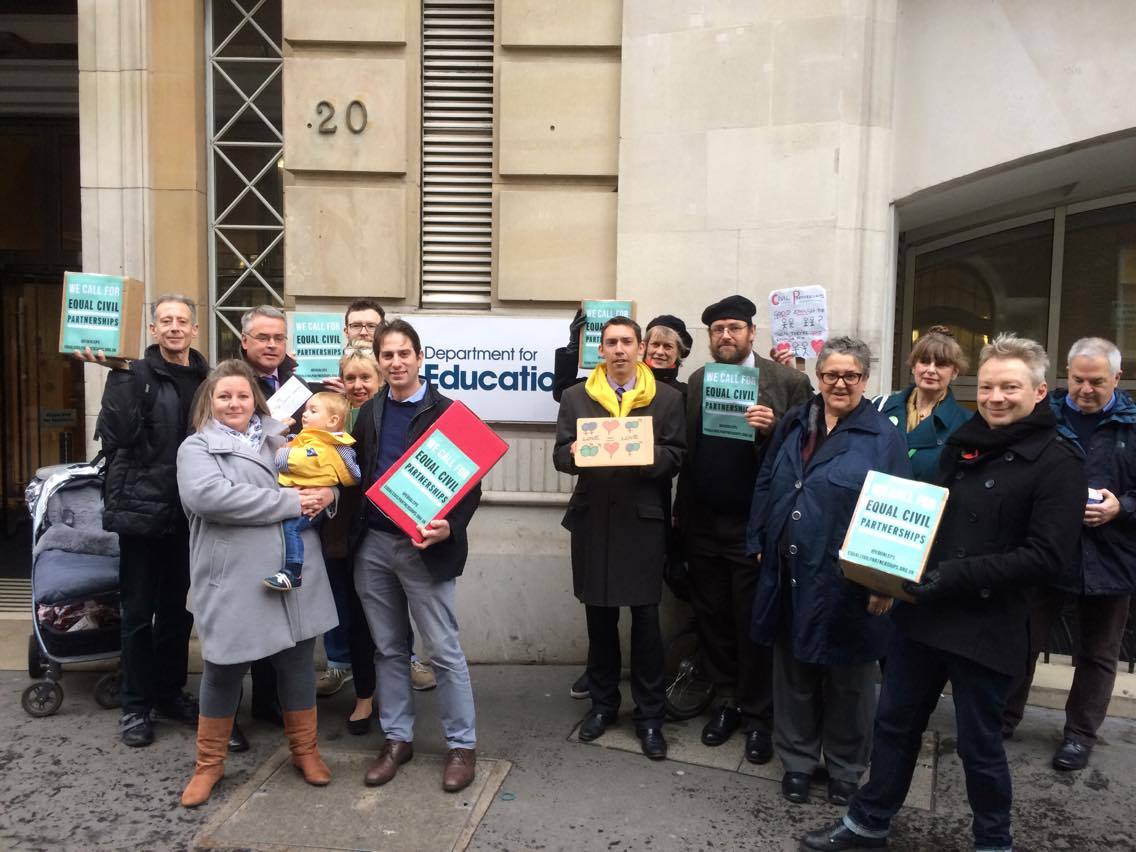 Green RoseMary Warrington (third from right) handing in a petition to the Home Office.
Currently it is women who disproportionately lose out when a relationship that isn't legally recognised through marriage breaks down. Those who have taken a break from work to raise children or who do not own the family home do not have the same financial security as their married counterparts. It is hoped that those who do not want to marry for whatever reason may now consider a civil partnership, potentially providing protection to millions of cohabiting families. 
Rebecca Steinfeld and Charles Keidan (front left) took the the Government to court over the current ban on civil partnerships for different gender couples. After being granted permission to take the case to to the High Court, and then narrowly losing in a 2 to 1 verdict in the Court of Appeal which allowed the Government more time to remedy the inequality, the Supreme Court finally ruled in the couple's favour this June (2018). The passage of a Private Members Bill brought by Mr. Loughton, MP (second from left), is now hoped to be the last stage in the battle before the law is finally changed. 
In a joint statement, the couple, who have seen 2 children born during the campaign, said: "This is great news and a major step in the right direction, but we will only celebrate when legislation is agreed and the government confirms the date for when the first different-sex civil partnership can take place. Change is long overdue."
Greens have long argued that Civil Partnerships should be for all. Speaking ahead of historic Equal Marriage Act in 2013, Caroline Lucas MP said: "While I'll be voting for equal marriage, I'll also be calling for more far reaching reform to allow everyone – same sex and opposite sex couples – to enjoy a civil partnership or marriage, as they choose. This is a question of equal love. It's not about asking for special treatment for gay couples or straight couples, it's about everyone enjoying the same rights regardless of their sexuality."
Lucas was among the first to put her name to previous Bills calling for an extension; Green Assembly members led a succesful motion which saw the London Assembly and Mayor Sadiq Khan officially supporting the campaign. It has been great to see Greens supporting Rebecca and Charles in Court, with Deputy Leader Amelia Womack as well as Green Party Women members accompanying the pair at demonstrations.
Green Party Women Committee member Clare Lorraine Phipps (below, outside the Supreme Court) told the Independent why she was calling for civil partnerships to be extended to all:
"[My partner and I] first got together nine years ago. Neither of us feel like the terms husband and wife are right for us. We want legal and financial protection and recognition for our relationship but marriage comes with so many cultural associations, traditions, and expectations that just don't feel right for us. 
"We are painfully aware that should anything happen to either of us, the other partner would have no legal or financial protection despite the fact we live together and have done so for six years. We don't think that it's fair that, just because we don't think marriage is right for our relationship, we should be denied the legal and financial protection it offers. A civil partnership would give our relationship that protection and in a way that we feel more comfortable with."
As part of the campaign, Clare and her partner Matt traveled to the Isle of Man - where civil partnerships were extended to same gender couples at the same time as marriage equality was introduced - becoming one of the first UK couples to enter a civil partnership on British soil. The pair are hoping that the Prime Minister's announcement means they will soon be able to have their Isle of Man partnership legally recognised in their home country.

Sign Charles and Rebecca's change.org petition for more updates on the campaign and show your support.