Ongoing campaigns: Equal Civil Partnerships
9 August 2017
 We have been longstanding supporters of making both marriage and civil partnerships available for couples regardless of their sexuality.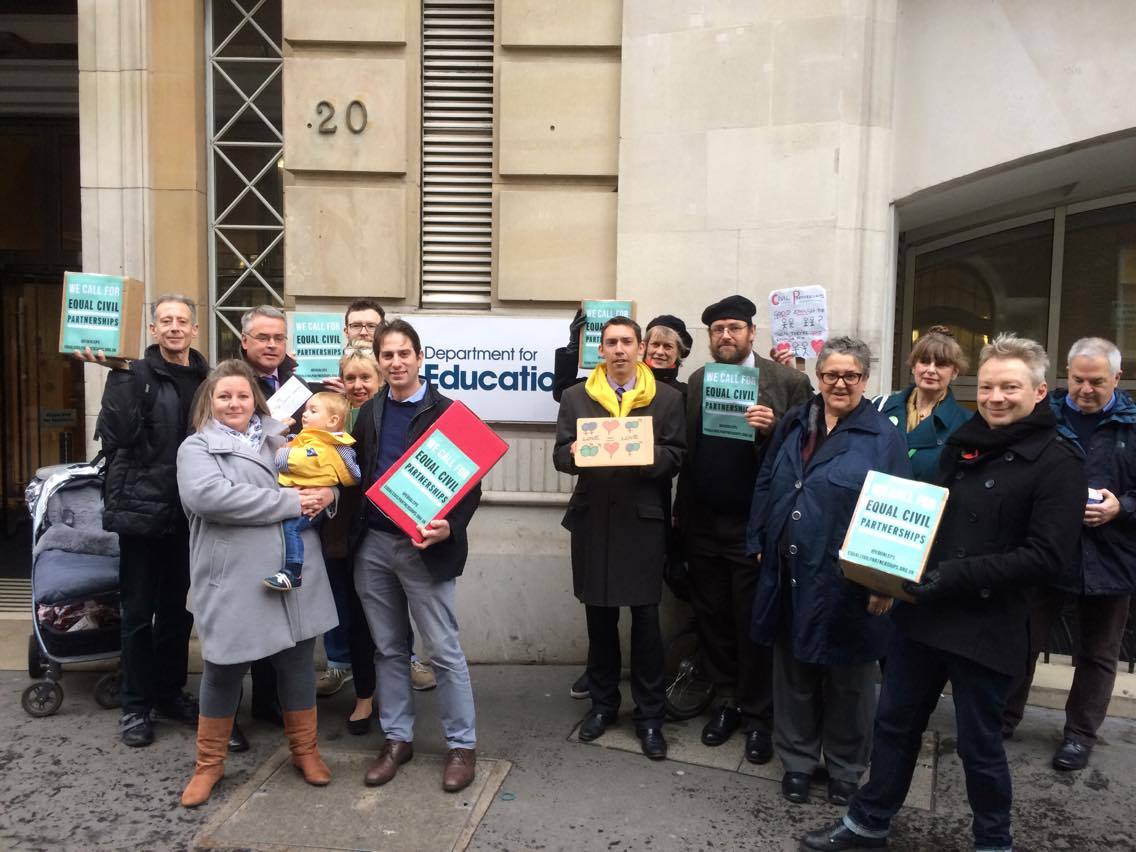 Green RoseMary Warrington (third from right) handing in a petition to the Home Office. Rebecca Steinfeld and Charles Keidan (front left) are taking the Government to court over the current ban on civil partnerships for different gender couples, while Mr. Loughton, MP (second from left) currently has a Private Members Bill progressing through Parliament on the issue.
Green Party Women member Clare Lorraine Phipps told the Independent why she was calling for civil partnerships to be extended to all:
"[My partner and I] first got together nine years ago. Neither of us feel like the terms husband and wife are right for us. We want legal and financial protection and recognition for our relationship but marriage comes with so many cultural associations, traditions, and expectations that just don't feel right for us. 
"We are painfully aware that should anything happen to either of us, the other partner would have no legal or financial protection despite the fact we live together and have done so for six years. We don't think that it's fair that, just because we don't think marriage is right for our relationship, we should be denied the legal and financial protection it offers. A civil partnership would give our relationship that protection and in a way that we feel more comfortable with."
Greens have long argued that Civil Partnerships should be for all. Speaking ahead of historic Equal Marriage Act in 2013, Caroline Lucas MP said: "While I'll be voting for equal marriage, I'll also be calling for more far reaching reform to allow everyone – same sex and opposite sex couples – to enjoy a civil partnership or marriage, as they choose.
"This is a question of equal love. It's not about asking for special treatment for gay couples or straight couples, it's about everyone enjoying the same rights regardless of their sexuality."
Sign Charles and Rebecca's change.org petition for more updates on the campaign and show your support.